One of our romantic, private cabins in quiet Pine Hills
can be your perfect mountain getaway ...
visit downtown Julian at your leisure, enjoy
the best of San Diego County's desert and mountain attractions
and return to your very own "cabin in the woods"
Our next weekend or holiday availability
for the New Artists' Loft
December 9th and 10th
for the Cabin at Strawberry Hill
November 18th and 19th
and for the Big Cat Cabin
December 9th and 10th
We have good mid-week availability

for other dates and rates
click the calendar link below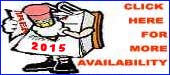 October 23, 2016
for reservations and more information:
760.765.0765
chuck, nanessence, and the cats
to protect the privacy of our guests
our cabins are shown by appointment only!

the first taste of fall!
I call this tree "Jack's Maple" in honor of,
It is one of the early turning trees in the neighborhood.
Some of the orchards and roadsides are also starting
to turn as are the in-town Locust trees.
The weather is beautiful, warm in the day
and cool in the night. We have good mid-week availability
all month, come to our quiet town and relax ...

Love all, trust a few, do wrong to none. -- William Shakespeare
The key is to keep company only with people who uplift you,
whose presence calls forth your best. -- Epictecus